I'm extremely excited to present the first author interview on this site. J. A. Souders is the author of the young adult sci-fi novel, Renegade. This is her first book. I actually heard about it from one of my favorite authors, Ann Aguirre. She insisted that I read it. And I do what Ann says, so I had it pre-ordered for some time. Along the way I began following Jessica on twitter (@jasouders) and got to know her through some design help I did for her. It was clear how passionate she was about her book and how excited she was to be published.
Before I get to the interview here are my thoughts on Renegade.
"My life is just about perfect." Evelyn's life is perfectly planned and supervised by Mother, the Governess of the underwater city of Elysium. And soon the 16-year-old will reign over the mysterious world. But when she falls in love with their enemy, it becomes clear that her perfect life in Elysium is a lie.
From the first haunting chapters that left me feeling completely on edge, all the way through to the nail biting conclusion, this book was one that I simply didn't want to put down. Towards the end I quite literally would yell at the book, scaring the cat and waking my wife. She doesn't thank you for that Jessica.
Notes: A good opening is everything.
The opening of this book gives us an absolutely unnerving sense of something being off. I've always been told to put the reader into the action. That doesn't always mean explosions and bunnies with rocket launchers. With Renegade, we're thrown into the tension. It's quiet and it's jarring in such a wonderfully creative way.
Notes: Make breadcrumbs.
Every so often in Renegade I found myself discovering little tidbits of information. Like Tyler Durden popping into view for only a split second, it gave me just enough information to know that something was off, that this was important but not enough to know what had happened or why. I call these breadcrumbs and they kept my attention and made me want to know more. It gave me all sorts of ideas for my own writing.
Notes: How to end Book One.
I've always loved reading series, but so often each book ends on an obvious cliffhanger like a bad episode of the Lone Ranger. I get that it's important to make the reader want to come back. To be honest I like cliffhangers, but I also like reading a complete narrative to the central plot of the story. Renegade definitely leaves questions unanswered and gives us new ones to think about, but I didn't end the book feeling like someone took away my slice of cheesecake when I'd only had one bite. With Renegade, the ending is satisfying but gives me a want and need to read further. I got one slice of the whole pie, and I can't wait to have more.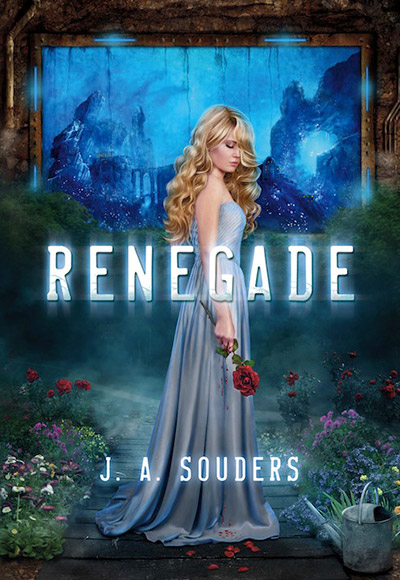 Author Interview with J. A. Souders
J.A. Souders was born in the heartland with an overactive imagination and an over abundance of curiosity that was always getting her into trouble. She first began writing at the age of 13, when she moved to Florida and not only befriended the monsters under the bed, but created worlds for them to play together.

Because she never grew up, she decided she'd put her imaginary friends to work and started writing. She still lives in the land of sunshine and palm trees with her husband and their two children and is an active member of the RWA, CFRW, YARWA and SCBWI.

She is represented by Natalie Lakosil of the Bradford Literary Agency. Her debut book, RENEGADE, surfaces November 13, 2012 from Tor Teen.

-from www.jasouders.com –
DAVID: Renegade is your debut novel. Now that you've been published do you feel like there is more or less pressure to write? Why?
JESSICA: More. Definitely more. The reviews make it hard to write and put an INSANE amount of pressure on you.  The great ones make you feel awesome, of course, but then you worry that you'll disappoint those same people with book two.  And the negative ones feel like a punch to the gut and makes it hard to get motivated to write.  Of course, I LOVE getting reviews (negative or positive) so it's a catch-22.  LOL.  However, I thrive with pressure so it's probably a good thing for me, maybe it'll make me a better writer.
DAVID: Do you have a specific writing process or something that's always worked well for you?
JESSICA: Before RENEGADE, I kind of just winged it.  I had a science fiction story that I wrote before RENEGADE that I sort of outlined, but with RENEGADE I had almost everything plotted out and planned.  I first wrote a synopsis.  Similar to the ones we send while querying, then wrote a chapter by chapter outline.  I only did the chapter by chapter outline for ten chapters at a time to give me room to change things if the characters took a different route or something, but mostly I had absolutely every chapter planned out, specifically what the last scene of that chapter was.  Now I have to plan things out, or I end up with just a giant mess of a manuscript.
DAVID: How long did it take Renegade to go from its acceptance to being on a shelf at a bookstore? What went through your head during that time?
JESSICA: It took about 18 months.  Renegade was bought in May 2011 and, of course, it was released November 2012.  At first I thought it seemed so far away, but it went so quick it felt like I was in a whirlwind.  You no sooner finish one edit, then you're moving onto the next, or working on another book.  Plus there's marketing and making sure people know about your book. Of course, I was so excited and happy to get an offer and that really hasn't diminished.  In fact, the more things grew closer to my release, the more excited I got!
DAVID: What has been your favorite part of this entire process?
JESSICA: I think my favorite part of the process is the editing.  I love writing, but it's the editing that makes everything pull together.  Takes it from a mess of words that don't really make any sense, to a book.  One that has plot and depth.  And hopefully one people enjoy reading.  Of course, I love that I found the perfect agent and she found the perfect editor and home for Renegade, because they both saw R's potential and took it from a good book to an awesome book.
DAVID: What was the most stressful part of the entire process?
JESSICA: Again I'd have to say editing, although marketing is a close (kissing cousin close?) second.  There's so much pressure when you get your first edit letter.  You're terrified to read it.  Then when you finally gather the courage to read it, you immediately think, How in the world am I going to do THAT?! And she wants it back WHEN?!  LOL.  But you figure it out and you realize how awesome those edits were.
DAVID: Who are your favorite authors and how have they influenced your writing?
JESSICA: I have a lot of favorite authors.  LOL.  And each has had some influence on my writing.  Even authors I don't like have influenced my writing, because they make me realize what I don't like and why and that I shouldn't do that or I'm able to think of a "better" way to do something.  Better of course being used lightly because there is NEVER a better way in publishing, just different.  But I'd say Christopher Pike, Nora Roberts, Dean Koontz, and Suzanne Collins had the most influence over me and my writing style.
DAVID: What is the best piece of advice you can give to aspiring authors?
JESSICA: Keep moving forward.  No matter how many rejections you get, keep going.  Keep writing.  Keep reading.  Keep querying.  It just takes one person to realize your awesomeness.  The only difference between an aspiring author and a published one is perseverance. 🙂 Also, don't be a jerk.  That's huge!   Agents and editors are going to reject you.  Readers aren't going to like your work.  It's all subjective.  You can't control it.  But you can control how you handle it, so don't be a jerk.
DAVID: I know you'll be coming to Chicago among other places. Where can your fans go to get to meet you and maybe get a copy of their book signed?
JESSICA: I actually have an awesomely full schedule for meeting fans and I'm so excited.  I have a full list on my website, but a few places coming up are Chicago this Friday.  Madison this Saturday.  Waterford Lakes, Florida next Saturday.  And Casselberry, Fl the following Saturday.  I'll also be going to a few conferences and conventions next year, so make sure to check out my Coming Events page.  And if you can't make it to any of those, I work with a local indie store and you can order signed copies from them (also on my website.)
DAVID: Anything else that you think is important to mention that I didn't cover here?
JESSICA: I just want to say a huge thank you for having me here, David, and another huge thank you to those who've read my book. Reviewed it, loved it, etc. Writing can be a lonely and daunting life, but having people read and love your hard work makes it all worth it.
And a big thanks right back Jessica! If you're in the Chicago area (like me) you can meet Jessica and listen to her read at the Anderson Bookshop in Naperville, IL on Friday at 7:30PM.